A Very Strong Engagement: New Rules for Recruiting Top Talent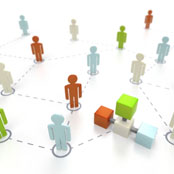 By CareerBuilder Staff
in Emerging Media
Recruitment Products
Choose Your Recruitment Need
From online job ads and recruitment videos to corporate blogs and social networking pages, employers today have more avenues than ever through which to promote their brand message — and more opportunities to engage potential employees.
Today's unique challenge lies in discovering how to navigate these resources and figure out the right messages and avenues to reach the talent your company needs.
If You Build It, will they Come? Creating Your Message
Your message sets an expectation of what it's like to work for your company. In order to truly engage the talent you want, it is crucial to ensure that you are sending the right message about who you are as an employer. Otherwise, you're sending the kind of false expectations that lead to low employee morale and even higher turnover.
When assessing your current employment message, consider the following questions:
How would I define my ideal company culture and employment brand?
Does my current company culture and employment brand live up to my ideals?
Do my employees like my company? Do they enjoy coming to work?
Would my employees talk well about the company to others they meet?
How can I improve my current employment brand?
How can I improve my job advertisements and target more of my ideal candidates?
Successful companies today use both talent intelligence and social media to gain a better understanding of what their target audiences want in an employer and are using that information to create a message that resonates with that audience. Gaining objective insight into how others perceive their brand enables companies to effectively identify areas for improvement and ways to strengthen their employment brand messaging.
Not only do you need to have an accurate view of your employment brand, but you also need to consider what you are able to offer potential employees in terms that no other organization can. The goal of your message should be to resonate so fully with your ideal talent that they would rather work for your organization than anywhere else. Do you know what keeps your current employees coming in to work every day? Understanding what keeps your employees engaged will give you a better understanding of why others would want to work for you.
Ask, And You Shall Receive
Surveying employees and job seekers offers key insight to help companies enhance their employment brand, reduce turnover, and target their marketing efforts to the right audience, in the right place, at the right time. Employee feedback surveys provide insight into what employees like and don't like about working at the company, as well as ideas for improving the employee experience and decreasing turnover. Job seeker surveys can help employers enhance their hiring and recruiting efforts by providing insight into everything from what job seekers look for most when considering job offers, to how they evaluate your company's brand message against that of your competitors, to what they like or don't like about the application experience.
Communicating Your Message: Update Your Employer Status
Just as they have done with public relations, marketing, customer service and internal communication, employers are now using social media tools as a way to connect with talent. Not only does having a social networking page afford companies yet another avenue by which to advertise job openings, but it also enables them to have a two-way conversation with job seekers. In a new Personified® survey, job seekers report frequently using social media to interact with prospective employers, apply to jobs posted on that company's social media page, and gain information they would not be able to find on the company's Web site.
In the same survey, 50 percent of passive job seekers agree that interacting with a company via social media make them feel a stronger connection to their company brand, and 40 percent of active job seekers say they are more likely to apply to a job at a company with a social media presence.
One of the newest — and most effective — ways to reach audiences today is through the use of video. Recruitment videos are increasingly inexpensive to produce and easy to push out over multiple channels. In January 2010 alone, over 173 million Internet users watched an average of 187 videos each, according to comScore Video Metrix.
Meanwhile, at CareerBuilder, clients with video branding received 34 percent more applications versus those without. From "day in the life" videos to employee testimonials, employers and recruiters are finding various ways — that are both entertaining and educational — to engage candidates using video.
Certainly, employers should remember to take advantage of every opportunity — from job advertisements to the company Web site to career fairs — to interact with job seekers and differentiate themselves as an employer of choice; however, the ever-growing influence of social media users — and social networking's power to connect companies, employees and job seekers on a whole new level — cannot be ignored.