Recruiting for Tomorrow Today: Why and How to Build Your Talent Pipeline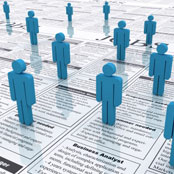 By John Smith
in Talent Pipelining
Related Articles
Recruitment Products
Choose Your Recruitment Need
It's no coincidence that so many of today's leading companies also enjoy reputations as great places to work — just look at Google, Apple, Zappos, Whole Foods and McDonald's, to name a few.
After all, they realize the quality of their product is only as good as the quality of their people; therefore, they invest just as much time, money and effort in their recruitment programs as they do in their marketing campaigns.
For leading employers today, that investment comes in the form of talent pipelining. Talent pipelining means building a database of qualified, relevant candidates in anticipation of future hiring needs. A well-built pipeline ensures that employers are never without relevant, qualified candidates — whether they are ready to hire right now or a year from now — so they never have to start at square one when it comes to hiring.
Talent pipelining: Enabling employers to do more with less
Ten years ago, when employers had hiring needs, they would probably put an ad in the local newspaper, post a job on the internet, visit a career fair or perhaps ask for employee referrals. Then, they would simply wait around, hoping for applications to come in.
Today, this reactive approach is no longer sufficient. The recruitment landscape has drastically changed. Human resources departments and staffing organizations have the unenviable challenge to deliver high quality candidates using as few resources as possible. That's where talent pipelining comes in. Consider the following:
Recruitment is — and always has been — an ongoing effort. Talent pipelining is about attracting and engaging the best people at all times — not just when a position becomes available. Continuous engagement helps you maintain a pool of potential candidates who have already shown interest in your company. As positions become available, you already have applicants ready and waiting, keeping you ahead of the game with your search.
Companies can no longer hide their employment brands. Today's job seekers are more resourceful than ever: They know what they want from prospective employers (great benefits, flexible work options, career development opportunities, for instance) and they know how to find them. In addition to searching job boards and getting personal referrals, the smartest candidates also utilize the internet and social and professional networking sites to research prospective companies and find out what it's like to work there. If they don't like what they hear about a company — and they will hear about it — they will run the other way.
Candidates want to be wanted. The most in-demand candidates want to be treated as such. They want employers to show as much interest in them as they show in the employer, so keeping in touch with candidates is crucial to winning them over. Think about it: If two companies are competing for the same candidates, the organization that has already built a relationship with those candidates will have the advantage when it comes to getting those candidates in the door. The war for talent is real and is heating up quickly. Building a talent pipeline keeps valuable candidates from slipping through the cracks, and gives employers an edge over competitors who do not put forth the same effort to engage candidates.
The competition for top talent will only intensify as the job market opens up. Research shows that employees tend to leave organizations following times of economic or organizational change, and today is no exception. While employers are faced with the challenge to retain their highest performers right now, they also have the opportunity to capture talent from their competitors. Employers who make the effort to build their pipeline with these passive job seekers will be top of mind when those candidates are ready to make the leap.
Recruitment resources are still lean. Talent pipelining enables employers to save overall time and costs associated with hiring. Consider how many times an immediate and frantic need to hire has led to a regrettable hiring mistake. Or how much money goes down the drain in lost productivity when hard-to-fill positions remain open. Talent pipelining also eliminates precious productivity time lost to sorting through irrelevant applications and screen candidates.
Taking it to the next level: Five essential steps to creating an effective talent pipeline
Of course, it's one thing to understand the need to build a talent pipeline. Actually building that pipeline, however, is entirely different — and often what gives employers the most difficulty. While specific strategies for building one's talent pipeline will vary by company and industry, the following five steps provide the foundation for any successful strategy.
Think like a name-brand company. Major brands like Coca-Cola do not wait for sales to drop to increase their marketing efforts. They advertise year-round, through good economic times and bad, because they realize that staying top-of-mind with consumers means they will be the first brand consumers remember when they are ready to buy again. Smart employers approach recruiting the same way, constantly working to build their talent pipeline, so that they already have interested, qualified candidates ready to apply when they are ready to hire.
Get buy-in, from bottom to top. In order to create an effective talent pipeline, everyone involved in the hiring process needs to understand and believe in the value of building it. As with any business strategy, talent pipelining requires commitment and buy-in at all levels.
Take inventory. How often do you ask yourself, "From which sources do we get the most applicants? Which areas of the country? Which of these applicants have turned into successful hires? What skills to these hires have in common?" It is crucial that you take the time to evaluate your current process now to ensure you're focusing your time and money where it's most effective. And with the amount of data available today, it's easier than ever to pinpoint exactly what is (or isn't) working about your current recruitment process — and make changes accordingly.
Create goals. Once you've evaluated your current process, you have a starting point from which to set measurable, quantifiable goals. Center your goals around getting a certain percentage of applications from your online job postings, careers website, or Facebook page or employee referrals. Then create another goal to hire a certain percentage of candidates from the talent pipeline you've built. Set another goal to retain those hires for one, two or five years. Keep adjusting your goals and keep measuring them. There's no better way to get tangible evidence that your efforts are effective, and you'll eventually see bottom line results.
Engage. Constantly. It is not enough to simply collect resumes and connect with candidates, but to keep them engaged as well. And with the popularity of social media and mobile technologies, the opportunities for engagement are limitless. For example, many employers now use blogs social networking sites to post content that educates job seekers about the culture and builds brand awareness. Employers are increasingly utilizing mobile technologies, such as notifying candidates via text alerts about upcoming career fairs or available opportunities. It is also essential to recruit current employees to refer candidates and act as brand ambassadors. Whatever the method used, the goal is to keep candidates interested, informed and excited about opportunities with your organization.
A recent CareerBuilder survey indicated that finding the right talent to fill open positions is one of the greatest hiring challenges employers face today. As the economy recovers and hiring needs increase, this challenge will only grow. The amount of time and energy organizations put into building their talent pipelines now will have a direct impact on the success of the organization overall for years to come.