Star Search: Why Employers Need to Identify Top Talent Now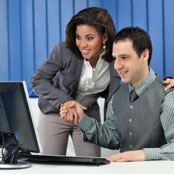 By CareerBuilder Staff
in Talent Data
Recruitment Products
Choose Your Recruitment Need
AS 2011 PROGRESSES, various indicators show that the U.S. is pulling out of this recession. Despite an improved economic outlook, however, employers remain hesitant about their recruiting plans, which can prove detrimental to their business in the long run. It is well-documented that, following an economic recession, the number of employees who leave companies increases significantly as market conditions improve and job opportunities open up.
In fact, the 2009 EDGE report showed that 55 percent of workers plan to change careers, look for new jobs or go back to school after the economy improves. That represents a significant drain on talent that companies can't afford right now.
As you consider the efforts that will move your business forward in the coming year, it is crucial that you focus not only on identifying new talent, but also on finding ways to engage and retain your current employees, even as opportunities open up. The most successful recruiting plans start with the following questions, the answers to which will inform your decisions about where to focus your recruiting efforts and provide you the greatest return on your investment.
How do job seekers perceive my company's employment brand?
How does my organization's employment brand measure up against that of my competitors?
When and where does my ideal talent look for jobs?
What does my ideal talent look for in an employer?
What companies am I losing talent to?
The key to unlocking this information — and gaining competitive insight — is through talent intelligence technology. This technology gathers vital information and provides companies the insight you need to enhance your overall recruitment processes and recruit the talent you need to move your businesses forward.
Talent tracking reports, for example, provide you insight into where you stand among your competition for talent. Having a record of which companies your employees come from — as well as those companies for which employees leave — gives you a benchmark by which to measure your own employment branding efforts. This data enables you to identify and then evaluate the competition, and enhance your process from there. This type of data analysis can also pick up employee patterns that help you predict which candidates will flourish at your organization, effectively eliminating costs associated with high turnover.
Not only is it crucial that you understand how talent perceives your brand, but is also essential to understand the candidate experience throughout the recruitment process. Data provided by applicant surveys and in analysis of applicant conversion rates can uncover gaps in your recruitment process by identifying where and when in the application process applicant drop-off occurs. Only by recognizing where you lose applicants can you work toward enhancing the application process for a more positive candidate experience and removing the chances for superior candidates to fall through the cracks.
Leading companies also use talent intelligence technologies to increase their visibility to job seekers. You can use this technology to track where and when their target audiences search for jobs, enabling you to make smarter decisions about how to spend the least amount of recruitment dollars to make the most impact.
As the need to find the best talent in the most efficient means possible increases, talent intelligence becomes increasingly valuable for companies. The smartest companies are leveraging this technology, using the data to gain insight into job seeker habits and perceptions to continually enhance their recruitment processes and gain a better return on their recruiting dollar.