Converting Dreams into Quality Job Applications
Learn about CareerBuilder.com's unique strategy for finding the best job seekers, whether they are actively searching yet or not. Also, read about the unique technology that connects you with the best candidates for your open positions.
People in every city, every company, and every season of life dream about better opportunities, better jobs, and better compensation. Some of these people actively search for jobs. However, many do not take that action without a little encouraging.
CareerBuilder.com finds passive job seekers all over the Internet, and strategically encourages these quality candidates to search for better jobs. How does it work? Keep Reading...
How does CareerBuilder.com find so many job seekers?
The CareerBuilder.com Partner Network...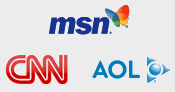 ...is comprised of over 1,100 of the most popular websites, including some of the largest websites on the Internet like Google, MSN, AOL, USA Today, Earthlink, BellSouth, and CNN. Add in over 150 local newspapers and television websites from almost every city in the U.S., and hundreds of other niche websites that appeal to people of every interest.
Various articles, job search boxes, and advertisements on these websites drive people into CareerBuilder.com where potential applicants will find your job opening.
View the CareerBuilder.com Partner List
How does CareerBuilder.com connect you with these quality candidates?
The CareerBuilder.com Job Engine...
...is the most powerful in the industry, serving hundreds of millions of job searches every month. There are four primary ways in which the job engine connects you and potential candidates for your open job: Job Search, Job Recommendations, Job Alerts, and the Resume Database.
Job Search:

CareerBuilder.com's industry leading job search is imitated across the industry, but its power has not yet been matched. Candidates can search by keyword, city, state, category, and many other job characteristics. After getting a list of results, candidates can refine their search by category, company, city, or pay.

And, job seekers can even exclude keywords, job titles, and companies from their search if desired. This barrage of features makes CareerBuilder.com's job search engine the preferred job search on the Internet, servicing over 30% more job seekers than any other job board.

Job Recommendations:

A key differentiator in the job board industry is CareerBuilder.com's exclusive SmartMatch technology. The technical gurus in CareerBuilder.com's Atlanta office spent years developing a technology that evaluates the jobs a seeker views, the resumes that they post, and other key user behaviors to recommend jobs in which the candidate is likely to be interested.

After candidates finish an application, they are presented with jobs that may also be of interest. When candidates return at a later time to resume their job search, they are automatically presented a list of Job Recommendations. Proprietary SmartMatch technology is leveraged all over CareerBuilder.com, anywhere it can be used to connect employers and job seekers more efficiently.

Job Alerts:

Millions of job seekers have signed up to be notified of new job postings matching their criteria. CareerBuilder.com periodically emails the millions (who have signed up for Job Alerts) with links to job postings of interest. Job Alerts keep passive job seekers involved in the job market, which drives more quality candidates to your job posting.

Additionally, most people do not unsubscribe from their Job Alert after finding a new job. Therefore, your job opportunity may land in the inbox of a star performer who is working for your competition.

Resume Database:

CareerBuilder.com encourages candidates to post their resume in the Resume Database for employers to search later. Because we can't expect every candidate to search for a new job every day, the Resume Database is a powerful way for employers to find candidates who have recently shown interest in new and different job opportunities.
Learn More or Buy CareerBuilder.com Products:
Learn or Buy - Job Postings on CareerBuilder.com