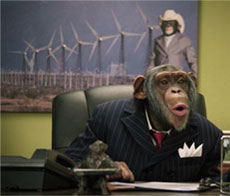 CareerBuilder supports the fair and humane treatment of all animals.
During the production of our ad, we followed the strictest guidelines to ensure our chimpanzee stars were treated well and not harmed in any way. We hired top trainers known to provide the highest standard of care for their animals.
We also had a member of animal rights group, the American Humane Association, on set during the entire filming to ensure the chimpanzees were treated with respect.
This was very important to us and we thought you might want to know.